Super Tuna, composed, produced and performed by Jin, is a viral fever these days.
This track recently surpassed Psy's record to stay at #1 on Worldwide Youtube Music Category for 16 days.
All news channels covered the success of the song. Mascots and famous bloggers are participating in the challenge on all platforms ( #SuperTuna keyword on TikTok has over 200 million views).
The Super Tuna trademark is used even for marketing purposes. On YouTube , the video choreographing the dance in Super Tuna has 38 million views.
On December 27, Super Tuna proved to be an iconic release. The entire documentary about this song has been released on YouTube.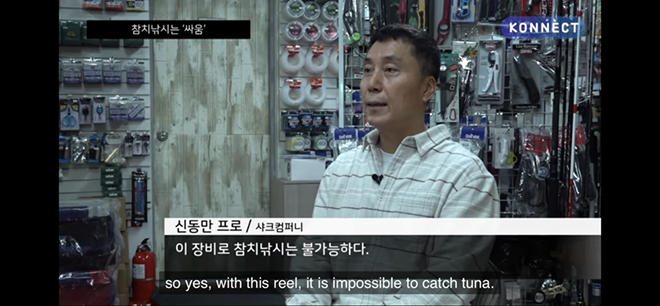 Super Tuna is made on a professional level but carries an ironic connotation that makes it very enjoyable to watch.
First of all, the film's narrator leads the viewer to an expert fisherman, who reveals that you need a special reel to catch a large tuna.
Watching Jin's MV, the fishing expert recalls a veteran fisherman who perfectly conveys the fisherman's emotions.
Then a real marine expert answers questions about the tuna's habitat.
From here, viewers discover that the sex of the tuna cannot be detected without pecking it.
Viewers also discovered that to catch a real super-large tuna, Jin would have to go to the coast of Taiwan (China).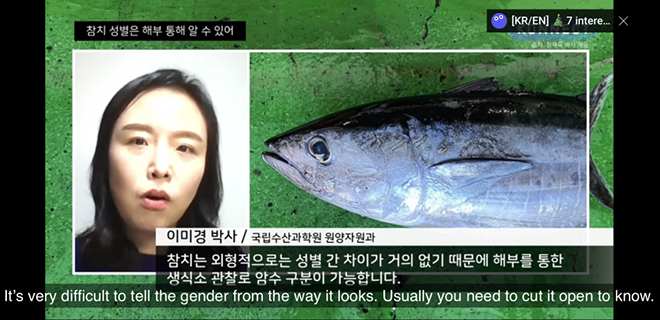 The next marina life expert is analyzing a drawing of a super tuna that Jin made himself on a t-shirt.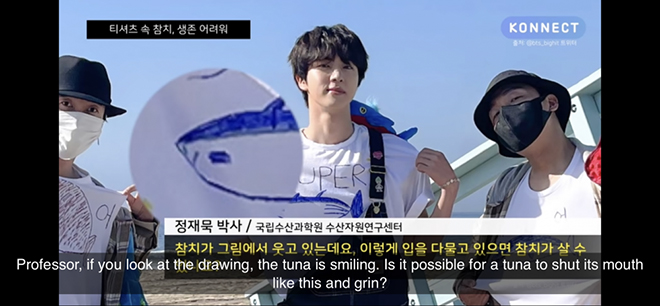 As it turns out, real tuna has a different type of tail and cannot swim with its mouth closed. Video made by Konnect channel and fun to watch.
Super Tuna truly became one of the most legendary songs ever released with wide interest throughout Asia and around the world.
Jin is truly one of the kindest creative artists. MBC even named Super Tuna as one of the 4 most famous moments of 2021 in Korea.