The public's curiosity about BTS has no bounds.
The more popular BTS is, the more people are curious about the 7 members, especially the details outside of their musical careers.
Normally, ARMYs are more than happy to answer questions from the public about their idols, while encouraging the inquirers to learn more about the members of BTS and become fans of the group. But for somewhat odd questions, such as the one below, it's a different story.
On the questioning site Quora, one user wrote: "Have any of the BTS members ever been arrested?"
The short answer is "no", but what's the point of writing that in the comments? Instead, fans listed fictional crimes BTS committed, inspired by real life…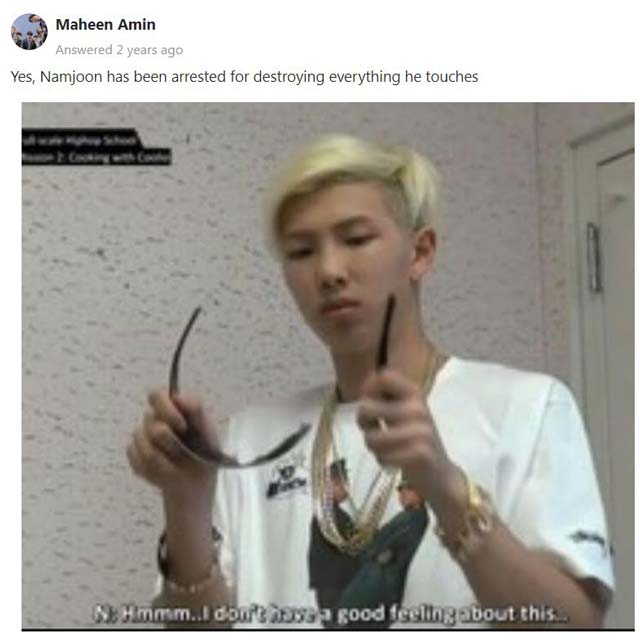 One fan replied, "There was RM arrested for damaging everything he touched."
"Hobi (J-Hope) was arrested for shining brighter than the sun" – another user wrote
"Unfortunately yes," wrote user Georgia May, going on to list RM and V's "crimes" – "The boys have done some bad things in the past."
"Taehyung (V) was arrested twice for graffiti and destruction of property and once for murder" – May's "horror" answer was given
Namjoon (RM) was arrested along with Taehyung (V) for graffiti and assault and was sued for not being able to pay the fine. But he still looks happy" – an even more imaginative comment from May reads
Although the post was not taken seriously, some users still confused imagination with reality, prompting Georgia May to write a disclaimer afterwards.
"Disclaimer: because obviously some people really think I'm being serious… So I have to make it clear that this is just a joke. BTS hasn't been arrested, and they certainly haven't killed anyone." – this user hastily explained – "All images are from their MVs and videos, or from BTS episodes on Vlive".
Now, true ARMYs as well as those who want to learn about BTS can rest assured about the members' status and continue to support them in the future.