It's everything fans have been hoping for, and more.
BTS has released the third and final tracklist for their upcoming anthology album, PROOF!
PROOF is a 3-CD album consisting of past solo, subunit, and group songs as well as three new songs. The first, featured on CD1, is "Yet to Come," a track that returns to one of BTS's most beloved eras, The Most Beautiful Moment in Life, also called HYYH.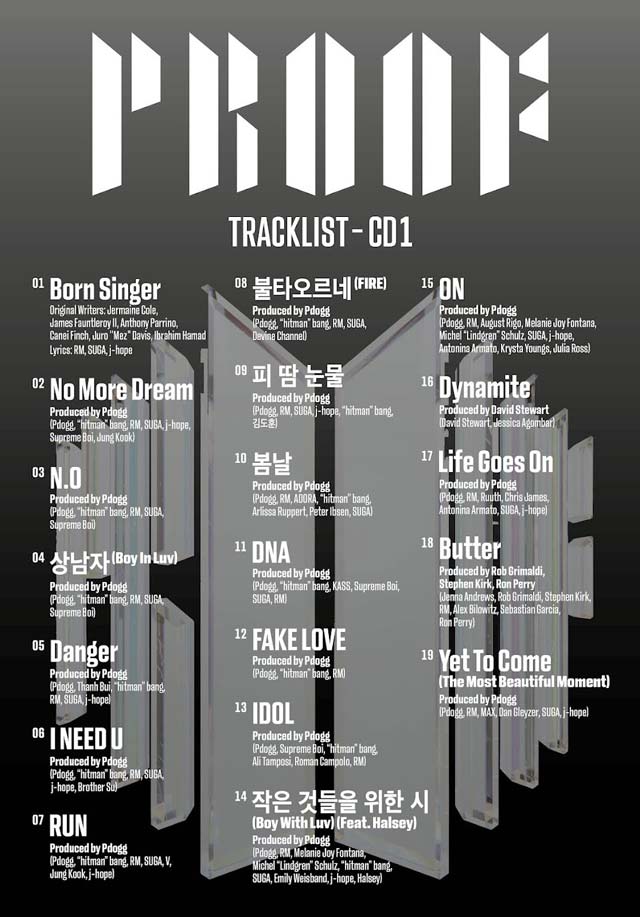 CD2's tracklist includes fourteen fan favorites, such as "Singularity," "Her," and "Filter," plus PROOF's second new song, "Run BTS," as Track 01. Fans predict that "Run BTS" could be about BTS's variety show, Run BTS, or a sequel to BTS's 2015 song, "Run."
Now, the trilogy is complete! CD3 is everything fans have been hoping for and more. It includes several, if not all, of the tracks on ARMY's wish list, as well as a new song, "For Youth." Since BTS's RM, J-Hope, and Suga were involved in making "For Youth," this new song could very well be a subunit track for the rap line. In addition to "For Youth," Track 02 ("Ambiguous Relationship") and Track 04 ("Quotation Marks") also appear to be new songs.
Stay up to date with the PROOF promotions schedule here: