Jimin BTS has been known by everyone as the "Rookies' Bible" because of the high level of admiration and respect he receives from rookie idols.
It can be said that Jimin's iconic and enchanting stage performances left an indelible impression in the hearts of all audiences.
Jimin's year-end performances are always something to look forward to during awards season and this is the impact every idol hopes to have in the competitive K-pop scene.
Korean media reported that culture critic Kang Myung Seok, who was a judge at MAMA, had previously praised Jimin's stage performances and asserted that "Jimin is an iconic artist, a cotton ball. flower of the awards" and "he's the reason why everyone should watch MAMA".
It is for this reason that most rookie idols cover Jimin's solo stage performances as a way to show their respect and admiration for him while also challenging themselves and proving themselves. that they can be up to the standard of performance in the K-pop scene.
One of the most covered songs in K-pop, if not the most covered, is Jimin's Lie .
This track was released in 2016 but still attracts attention to this day.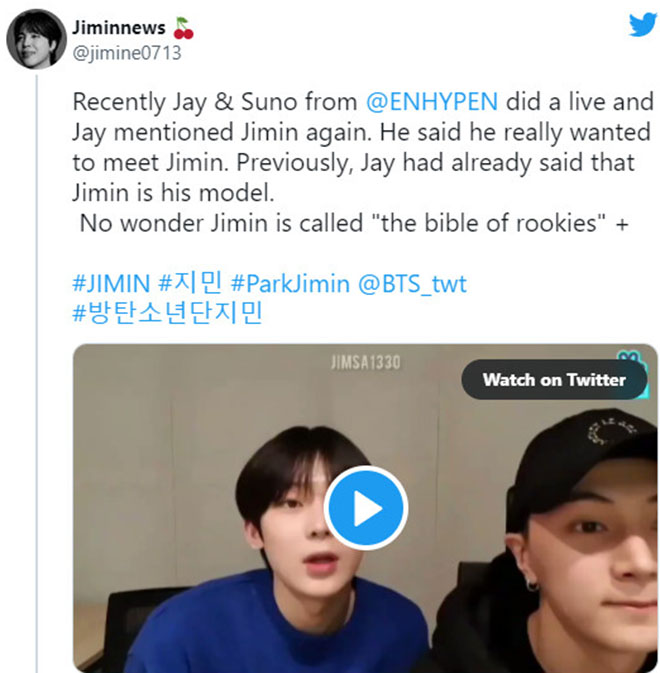 On February 23, Park Sung Hoon of the group ENHYPHEN expressed his wish to cover Jimin's song " Lie " in a "fan call" exchange with fans.
Thus, Park Sung Hoon became the second member of the group after the group's main dancer, Ni-Ki, to cover the song.
Ni-Ki especially loves this song and he said in an interview with Weverse that he covered it during his audition at BELIFT LAB and it shows the weight of the song, not only for him but also for him. with any artist in the K-pop scene.
Over the years, other idols who have covered Lie have ROMEO's Milo, Seven O'clock's Taeyoung, Target's Boun, Rainz's Hyunmin, So Jung Hwan, and Choi Hyunsuk as YG trainees.
VERIVERY's Dongheon, Creker Entertainment's Gwon Huijun, ENOi and Dojin's J-Kid, 1THE9's Jeon Doyum, ACE's Kim Byeongkwan, EBOYZ's Choi, D1verse's Cuong Bai, OnlyOneOf's Yoojung, BOY's Kim Koohôn, Newkidd's Woochul, JXR's Yuri, WEi's Yoo Yong Ha…
Meanwhile, Jimin's song Serendipity has also been widely covered. It's proof of his highly revered status as a top performer in K-pop.
In addition to dance covers, idols also repeatedly mention Jimin in their interviews or in their VLIVE broadcasts, saying that he is their role model and that they want to be like him.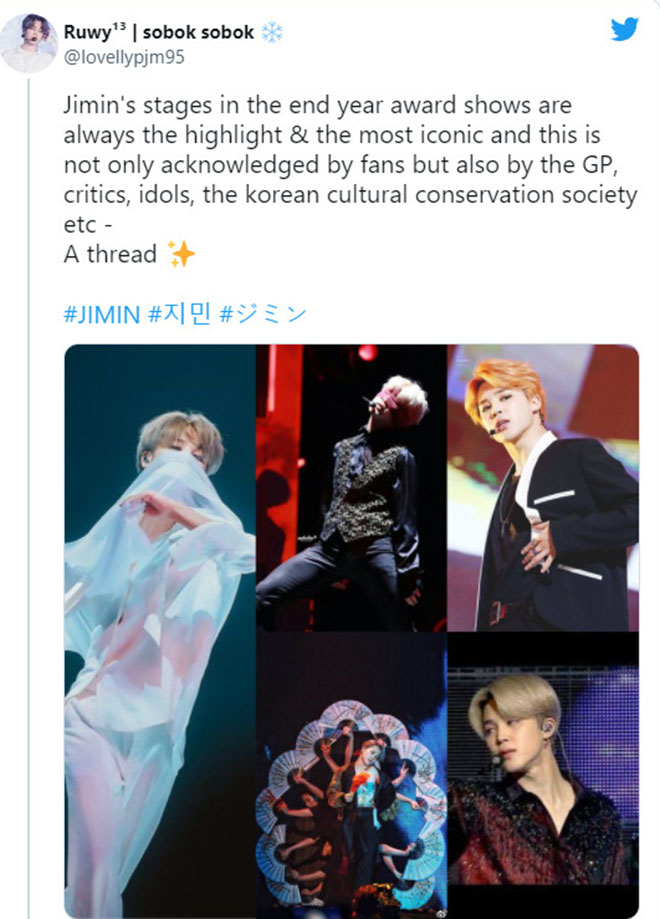 K-media recently reported that another idol, Louis, mentioned Jimin as his role model.
Louis from KINGDOM became the 3rd member of the group after Dann and Arthur, using Jimin as his role model.
Arthur said that Jimin is part of the "Elite King Dance Line", which is a group of only 3 idols who are considered the best dancers in K-pop.
There are also idols like TAN's Im Joo-an and Ryuhei from Japan. They have repeatedly expressed their love and admiration for Jimin.
Jimin's many stage performances at year-end award shows have earned him respect and admiration, such as MMA 2018, 2019 and 2020, MAMA 2015 , KBS Gayo , and 2016 MBC.
These performances by Jimin have become the inspiration for many idols, such as Wonjin from Cravity and Jang KyungJun from Jannabi.
With all these mentions and dance covers, there's no doubt that Jimin is truly the "Rookies' Bible" and the "Idol of Idols".
Jimin's choreography and performance are second to none. No wonder he has won almost every dance poll in the past few years, such as those held by famous worldwide voting websites like Dabeme, Netlab , King Choice and KPOP VOTE and most recently Master of Dance Contest 2022 on FanPlus.